Resources for Entrepreneurs
You've got an idea. Now let's make it a reality.
Whether you want to pitch your newest idea, or you need resources to get your business off the ground, MERGE and the Iowa City Area Development Group team is here to help you along the way.
Inspire. Educate. Validate.
This is the time where new entrepreneurs get inspired, learn best practices, develop skills, validate ideas, and begin to build their team and product. Ready? Let's begin –>
Start. Develop. Launch.
In this stage, entrepreneurs establish and formalize the company, develop the product, get feedback from customers, and prepare for the next step. Ready? Let's Launch –>
Recognition. Funding. Growth.
Here, a startup proves their utility, receives recognition, and scales up. This usually requires funding, angels, VCs, and ways to connect them to startups. Ready? Let's grow –>
Committed to helping entrepreneurs.
The Iowa City Area is consistently ranked as a great place to both start a business and to live. Our community is thriving with entrepreneurs, startups, and is home to many corporate headquarters.
The Iowa City Area has several incubator spaces for local entrepreneurs including MERGE in downtown Iowa City, CoWork @ 808 in Coralville, and the ICCoLab in North Liberty. Additionally, our area hosts weekly 1 Million Cups, Startup Weekend, Entrefest, and other events targeted to entrepreneurs and startups. Iowa City has also been ranked as the 2nd Best City for Entrepreneurs by Entrepreneur Magazine!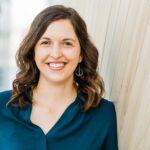 Connect with Liz Hubing!
Senior Director of Workforce and Business Innovation
Greater Iowa City Inc.
(319) 248-6910


Greater Iowa City Inc.
Greater Iowa City, Inc. (Greater IC) is a network of business and public sector leaders who collaborate to support local companies, guide investment, and grow a resilient economy.
Are you a startup, entrepreneur, traveling digital nomad or just looking for space to work?

Having a space in the IC CoLab has allowed me not only to use conference rooms, printers, and high-speed internet, but the real value has been networking with other companies in helping build my business!
Our CoLab space in Coralville provides business and entrepreneurial resources to our members, including Backspace Group, Inland Bank & Trust, Letter B, Culture Friendly Consulting, and John Naeve.
The IC CoLab opened its doors at an opportune time for Radiology Protocols. We are a young company and needed to expand. Not only did the IC CoLab provide the space and office infrastructure we needed; it connected Radiology Protocols to the business community and the wider entrepreneurial network. The culture of energy and connectivity at the IC CoLab is invaluable to an entrepreneur.